When we talk about new and trending streaming services, not many of them strike our minds. However, Sling TV has dramatically impacted the audience; almost everyone wants to try it out. This is due to multiple reasons and their first-class user-friendly interface. The platform has even considered internet speed variations and their consequences.
As we all know, our internet speed determines our streaming experience. Keeping that in mind, Sling TV has given you access to change and lower the bandwidth according to your data speed. Simply put, users can change the picture quality so that they do not have to face streaming issues like buffering.
Today we'll shed some light on how to stream Sling TV on lower bandwidth and what are the minimum speed requirements for smooth streaming. Before getting started, if you want to manage the recording feature on Sling TV, then check out our guide here. Now, let's quickly get started with our topic down below.
What is Bandwidth? How is it linked to Sling TV?
Bandwidth means the amount of data transferred through a network in bits per second. In other words, it determines the user's internet speed. Moreover, streaming quality is directly proportional to the bandwidth. If the users get higher bandwidth in their area, they can stream at higher picture quality without any issues.
However, there are many areas where the internet cannot reach smoothly. Now to cater to this issue, Sling TV has a feature allowing users to adjust the picture quality as per their available bandwidth. Now you might be wondering how much speed is sufficient for a smooth streaming experience. So check it out in the next section of this article.
Minimum internet speed required to stream on Sling TV
| | |
| --- | --- |
| Speed Required | Devices |
| 3 Mb/s or higher | Smartphones and other portable devices |
| 5 Mb/s or higher | Single-stream connected devices like PCs, laptops, etc. |
| 25 Mb/s or higher | Bigger screens and multiple streaming devices |
Note: The streaming giant itself provides the above data. Since these are just estimates, the actual numbers might differ.
Furthermore, the users can also check their internet speed on the platform. As discussed earlier, we'll also discuss the procedure for watching Sling TV on lower bandwidth. Let's check it out down below.
How to watch Sling TV on lower bandwidth?
Users can switch between higher to lower bandwidth using any compatible device in four simple steps: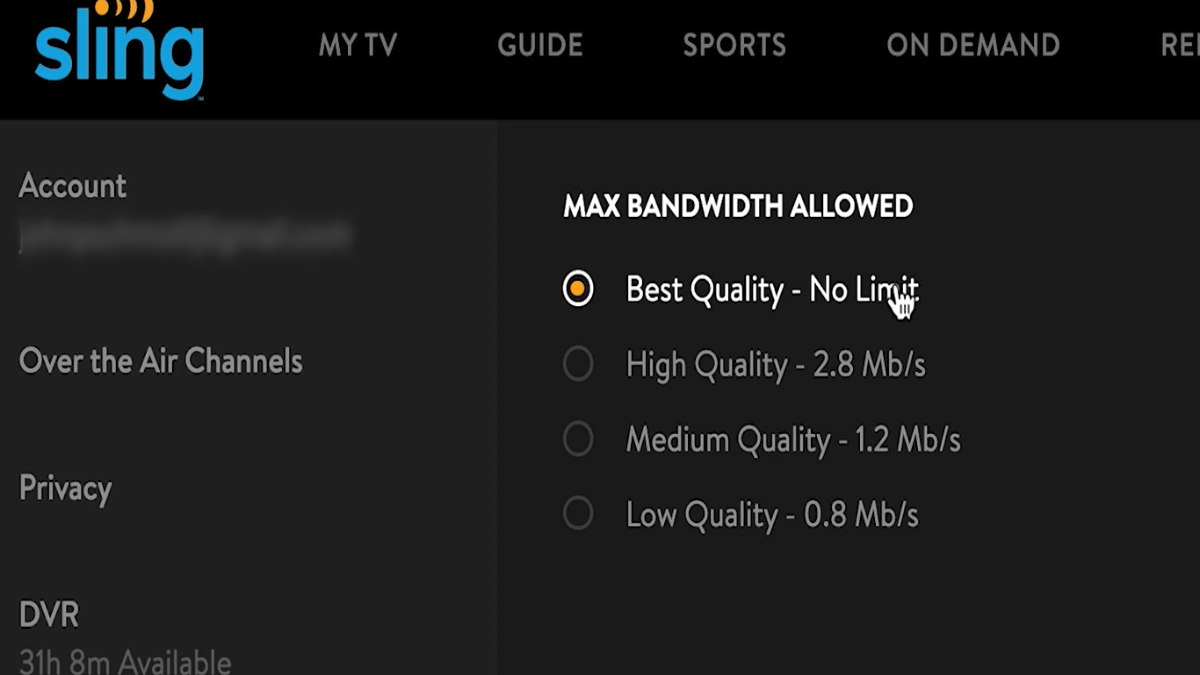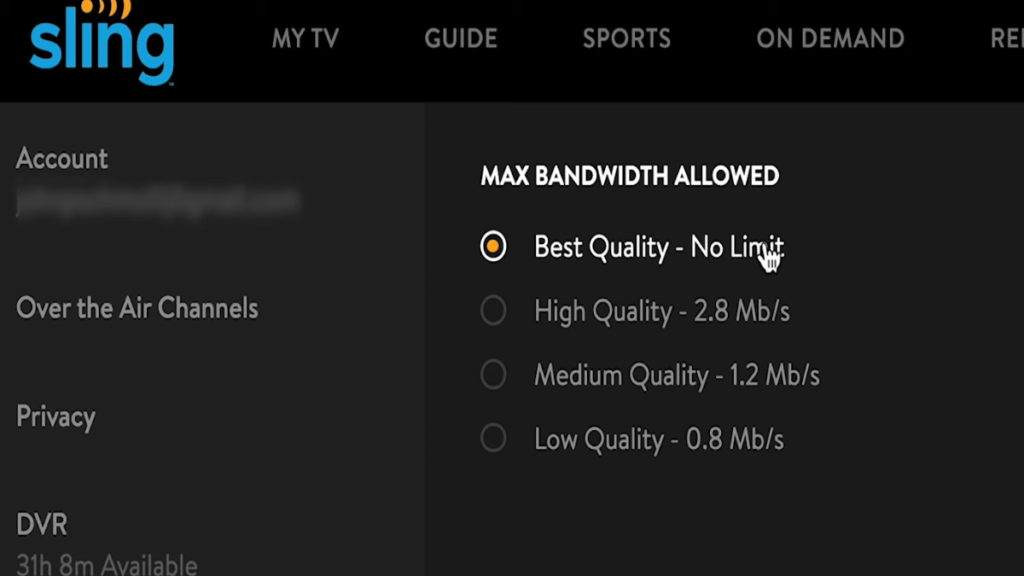 1. Open your Sling account and log in with your credentials.
2. Now, select "Settings" and open "Connections."
3. Navigate the "Streaming Quality" section under "Bandwidth."
4. Finally, choose the quality, and you're done.
Not many streaming platforms allow users to change the streaming quality. It is a good thing that Sling TV is giving this opportunity. This feature is helpful during travel or staying at a hotel with lower data speed. With such impeccable features, Sling TV promises a bright future for all the cord-cutters out there.
That's all we have for this article. Let us know your thoughts in the comments section below.