It's been two years since the launch of the Meta Quest 2 (formerly known as Oculus Quest 2). Since then, many new standalone VR headsets have emerged on the market. However, we have been using the headset for over a year, and it still holds up as the best VR standalone headset for its price range. During our Meta Quest 2 review, we found many features that were quite impressive, but some still needed a lot of work to function correctly.
Meta's biggest competition currently is Bytedance's Pico 4, arguably a better standalone VR headset in terms of specs and price. Then there's also Valve Deckard (an upcoming standalone VR headset) and Apple's mixed-reality headset. However, Valve and Apple headsets will likely target a higher price range, whereas Quest 2 and Pico 4 are focused on regular consumers.
Note: A standalone VR headset does not require a gaming PC to run VR games. It has an inbuilt chipset, RAM, and storage to run VR games on the headset itself. Check out our list of the best standalone VR headsets to buy.
Meta has also recently launched Quest Pro for pro-consumers willing to spend $1,000. However, Quest Pro was poorly received by critics due to its lack of improvements despite the price point. According to rumors, the company is also working on a Meta Quest 3 that will likely come out in 2023, somewhere around the $500 price point. So keep that in mind when deciding to buy the Meta Quest 2.
Meta Quest 2: Specs
Specifications
Meta Quest 2
Chipset
Qualcomm Snapdragon XR2
Display Screen
Single LCD panel
Display resolution
1832 x 1920 per eye
Storage
128GB, 256GB
RAM
6GB LPDDR4
Battery
2-3 Hours
3640mAh
10W charging
Passthrough camera
Black and white passthrough camera
Operating System
Android (modified)
Refresh Rate
60Hz / 72Hz / 90Hz / 120Hz
Lenses
Fresnel lenses
Size
7.5 x 4 x 5.2 inches
Weight
503 g
Meta Quest 2: Price & Availability 
The 128GB version of the Meta Quest 2 goes for $399 / £399 / €449 in the UK. There's also the 258GB version that costs $499 / £499 / €550. The Quest 2 was recently priced around $299 until Meta increased it by $100 across all storage variants. The only consolation is that the headset now comes with a free copy of Beat Saber (one of the best VR games on the platform).
This price range makes Quest 2 cheaper than the HP Reverb G2 ($599) and the Valve Index ($999). The recent price bump also makes it costlier than the Pico 4, which is priced at €429 (128GB) and €499 (256GB). Unfortunately, Pico 4 is only available in 13 European countries, Japan and Korea. However, Pico 4 is the only standalone VR headset at this price range that offers colored passthrough.
Meta Quest 2 Design Review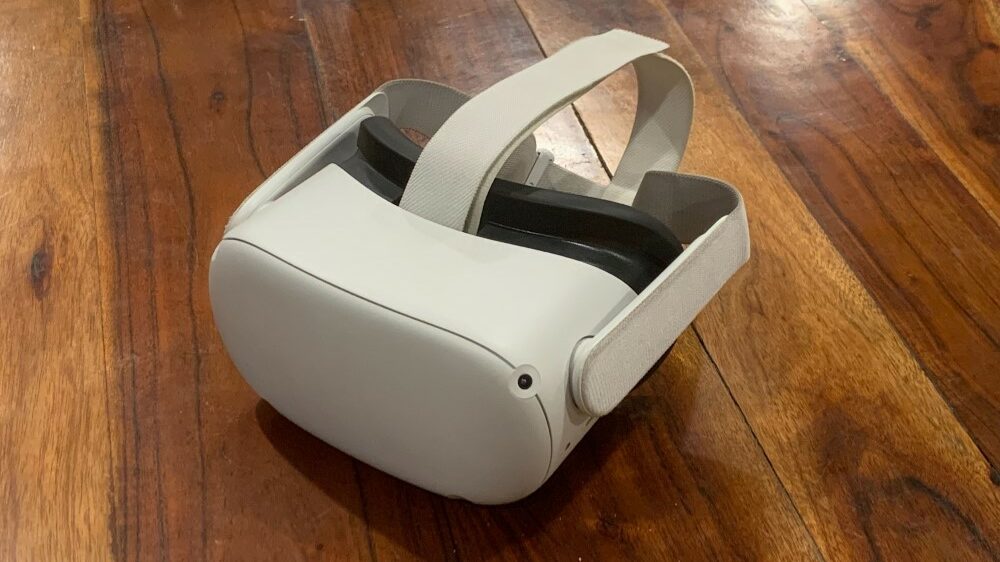 The Meta Quest 2 has a smooth plastic surface with a sleek white look. It has a minimalistic and clean design with a USB-C port and headphone jack on the left for charging and audio. The headset only features three buttons: one on the right for power and two on the bottom for volume control.
Meta also offers a glass spacer so that your glasses have enough space to fit between the headsets. However, the facial interface is not broad enough to fit bigger glasses seamlessly. Users would have to place their glasses into the headset first and then put it on.
The Meta Quest 2 also has a three-point elastic strap made of fabric. The strap isn't exactly comfortable, but it makes the headset more portable as it takes less space. Users should look towards third-party Quest 2 accessories for a more comfortable fit.
Comfort (Pros and Cons)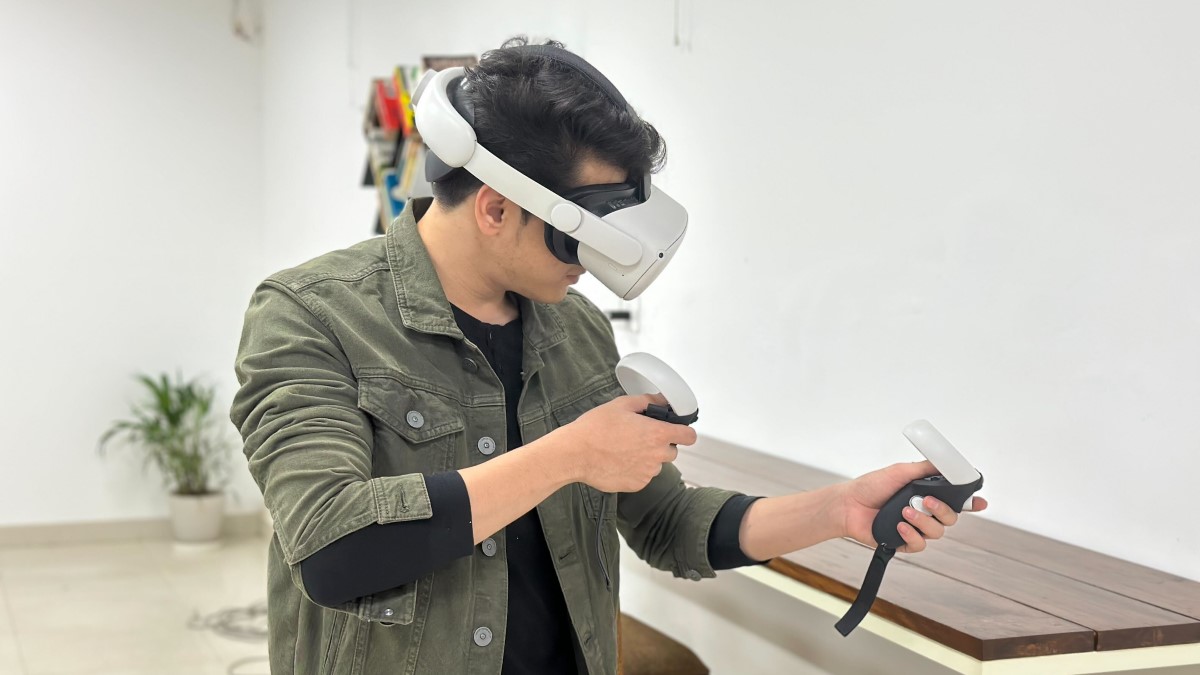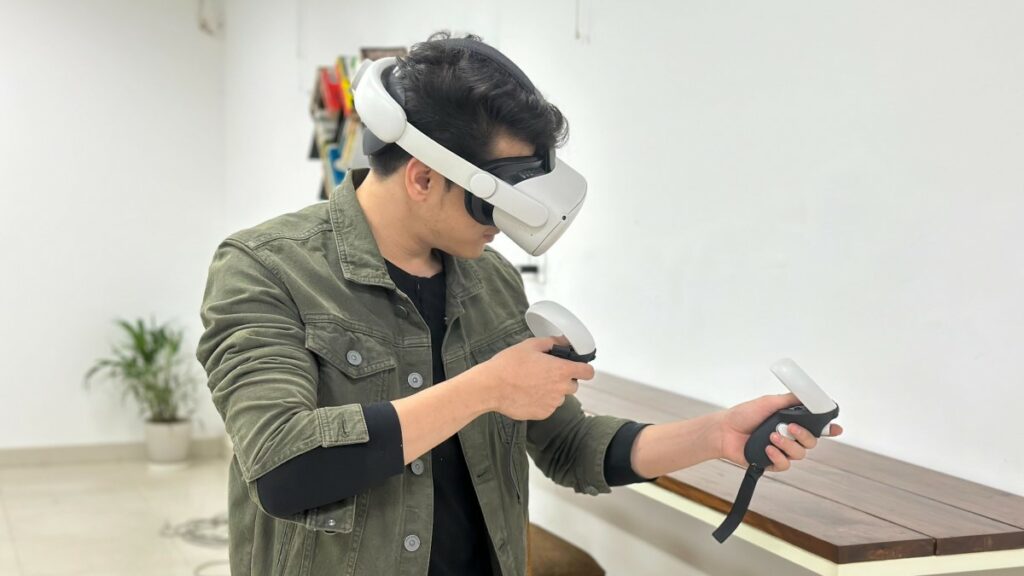 The headset's lens is surrounded by a black foam facial cover which can get uncomfortable due to sweat absorption. Luckily, the headset has a rubber cover that can be placed on top of the foam cover. However, the base facial interface does not have air vents that can help with issues like lens fogging and heat buildup.
The headset has a very simple design, but it is pretty bulky by today's standards. Most new VR headsets use pancake lenses that are smaller in size. However, Quest 2 uses Fresnel lenses that make the front of the headset heavier.
Users can also adjust their IPDs by moving the lenses closer and farther based on their eye position. Overall the headset is quite comfortable but can cause slight discomfort if used for long periods of time. To resolve this issue, users can buy a third-party strap and facial interface to improve the experience.
Sophisticated Hardware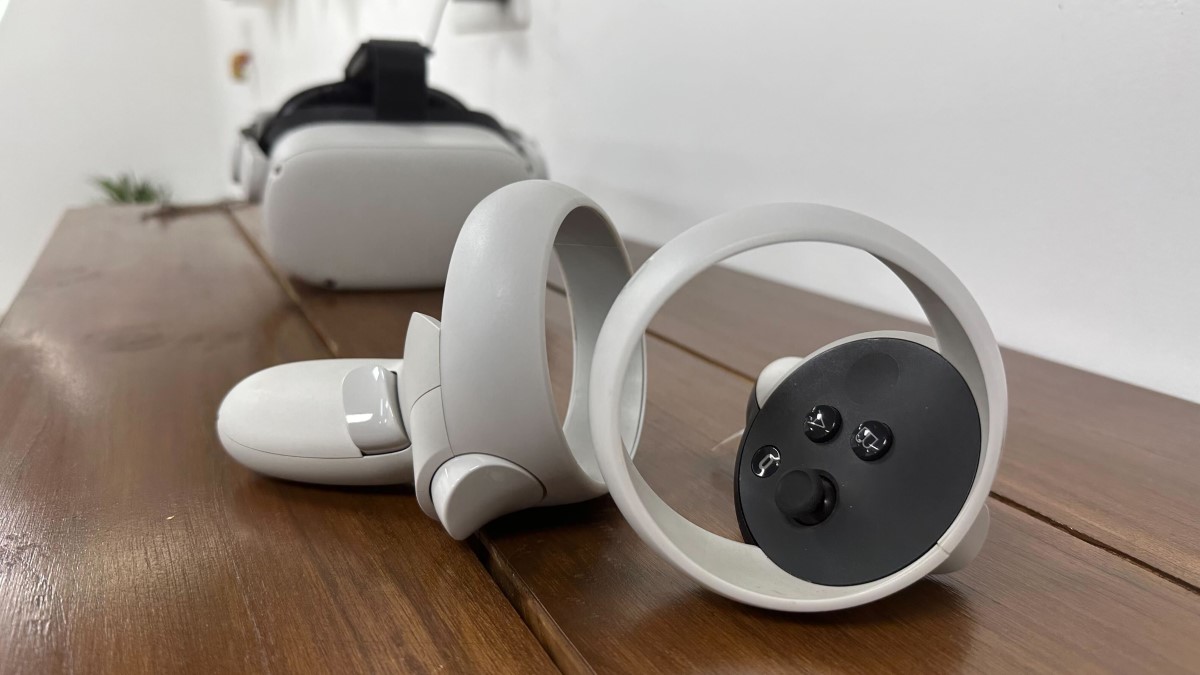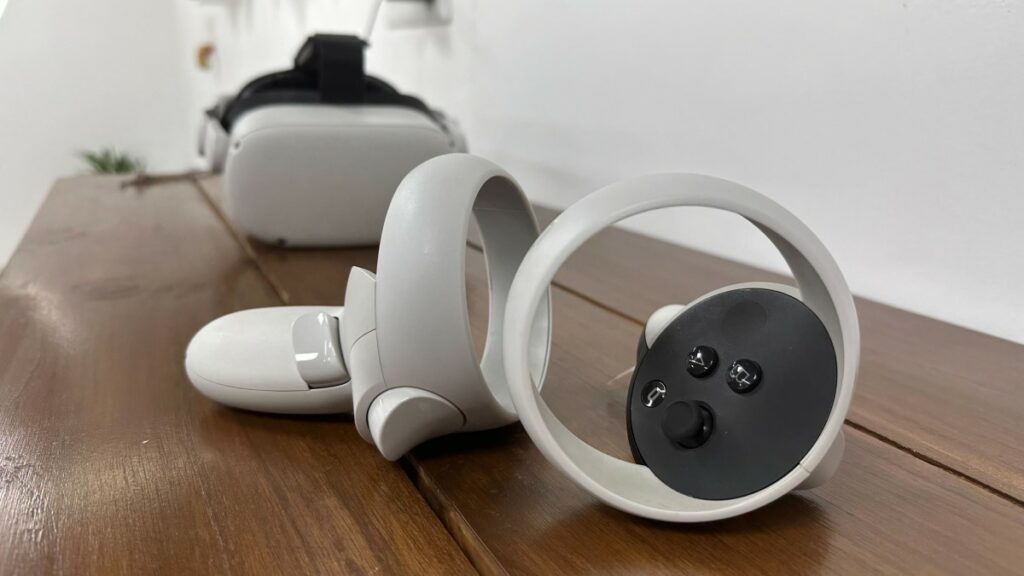 The Meta Quest 2 comes equipped with a Qualcomm Snapdragon XR2 Gen 1 chipset. This chipset makes it possible for many VR games to be played on the headset without being connected to a PC. However, the chipset is now over three years old, but rumors suggest that the Meta Quest 3 will come with the new XR2 Gen 2 chip.
Despite its age, the XR2 Gen 1 chipset can still run heavy standalone VR games like Bonelab directly on the headset. Equipped with 6GB DDR4 ram and a powerful XR2 Gen 1 chipset, the headset can run most games flawlessly. However, the performance of these games mostly comes down to the optimization on the developer side.
As for the display, the Meta Quest 2 uses a single-panel LCD screen with 1832 x 1920 per eye resolution. This resolution is more than enough in VR games but seems a bit lacking when watching videos on YouTube VR. However, the image quality is sharp enough to make out distant targets and land headshots in VR shooting games. Users can also check out the full hardware rundown of the device in our Meta Quest 2 buying guide.
The headset has four passthrough tracking cameras that can also show the outside world. However, the cameras are limited to black-and-white passthrough vision. Fortunately, they are handy as you can instantly switch them on by double tapping on the side of the headset.
The built-in audio speakers are also an excellent addition to the headset. However, the audio loses clarity and volume with the sound leaking throughout the room. Fortunately, users can connect alternative audio devices through the 3.5mm jack or Bluetooth.
Which Meta Quest 2 Version To Buy? [Storage]
In terms of storage, the 128GB version will be more than enough. Most standalone VR games and apps on the Meta Store don't exceed 2-4GBs. However, a few games require 7 GB of storage space, like Bonelab, RE4, and The Walking Dead: Saints & Sinners. Unfortunately, there's no option for expandable storage, so choose your storage option carefully.
Great controllers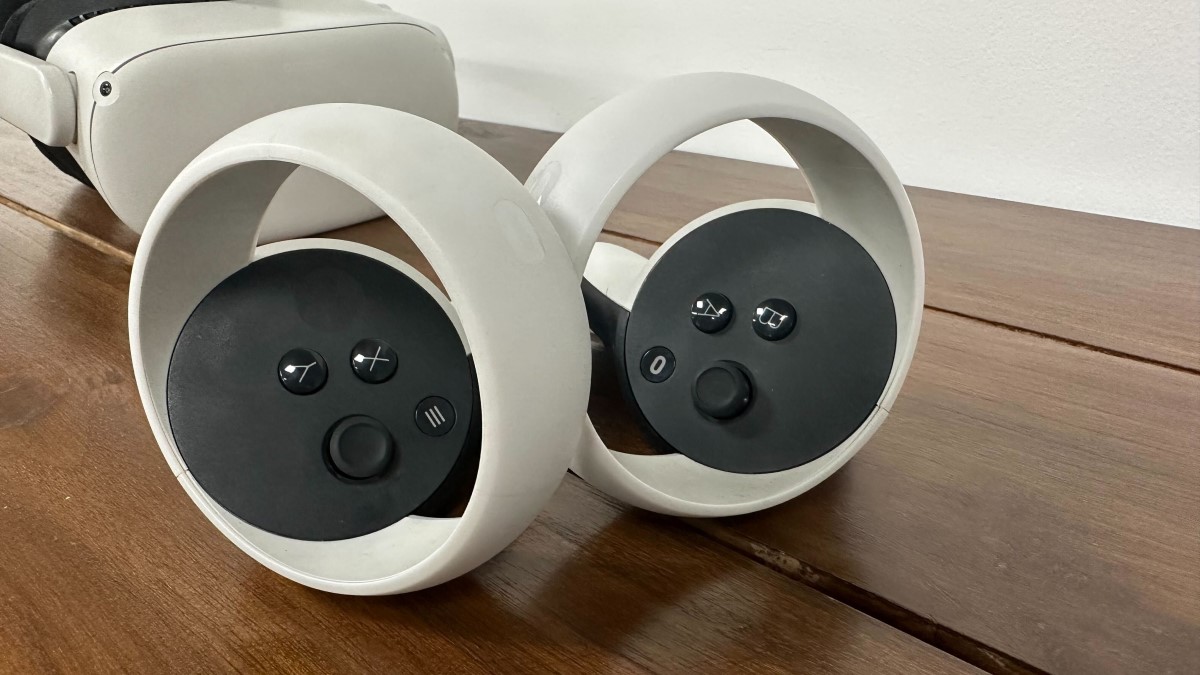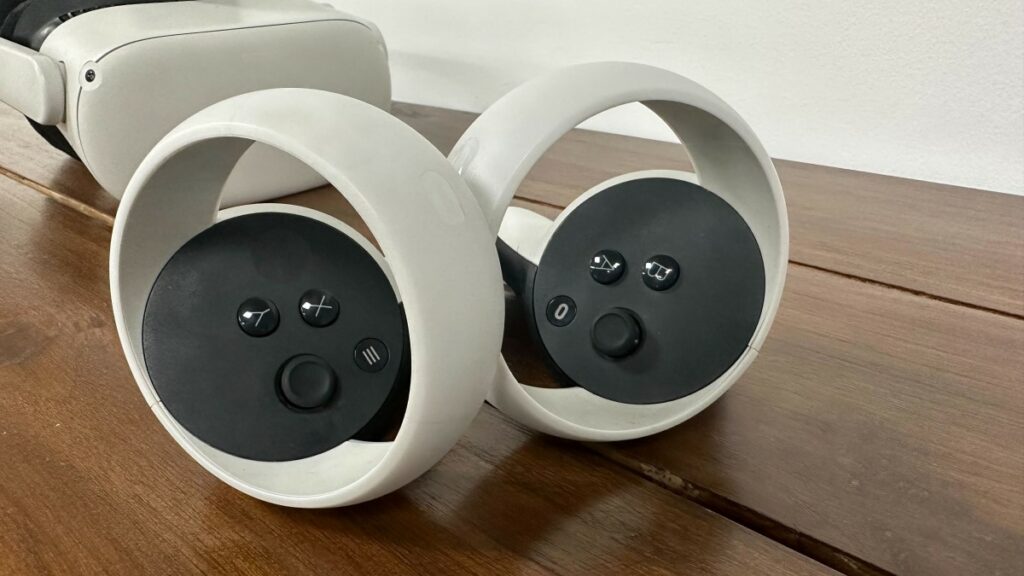 The Quest 2 touch controllers come with a tracking ring and are powered by AA batteries. Due to the AA batteries, the controllers have a long battery life making them really convenient to use. The two triggers are placed naturally in front of the index finger (to select things in VR) and the middle finger (to grab things in VR).
However, they can only be tracked when in front of the headset. Another downside is that the tracking ring can sometimes bump into the headset while aiming a gun in VR. Other than that, the controller also vibrates to simulate resistance or an action in a VR game. Overall the controllers feel comfortable to hold and easy to use.
Battery concerns
During our testing, we found that the Meta Quest 2 uses more battery life, depending on what you are doing. Playing standalone VR games drains the battery in 2 hours. However, watching videos or consuming media extends the battery life to 3 hours.
On the other hand, PC VR games consume even less power as the headset is constantly being powered through the USB-C cable. The headset comes with a 10W charger, but it takes one hour or more to recharge it from zero to 100 percent.
Over 1,900 VR Games and Apps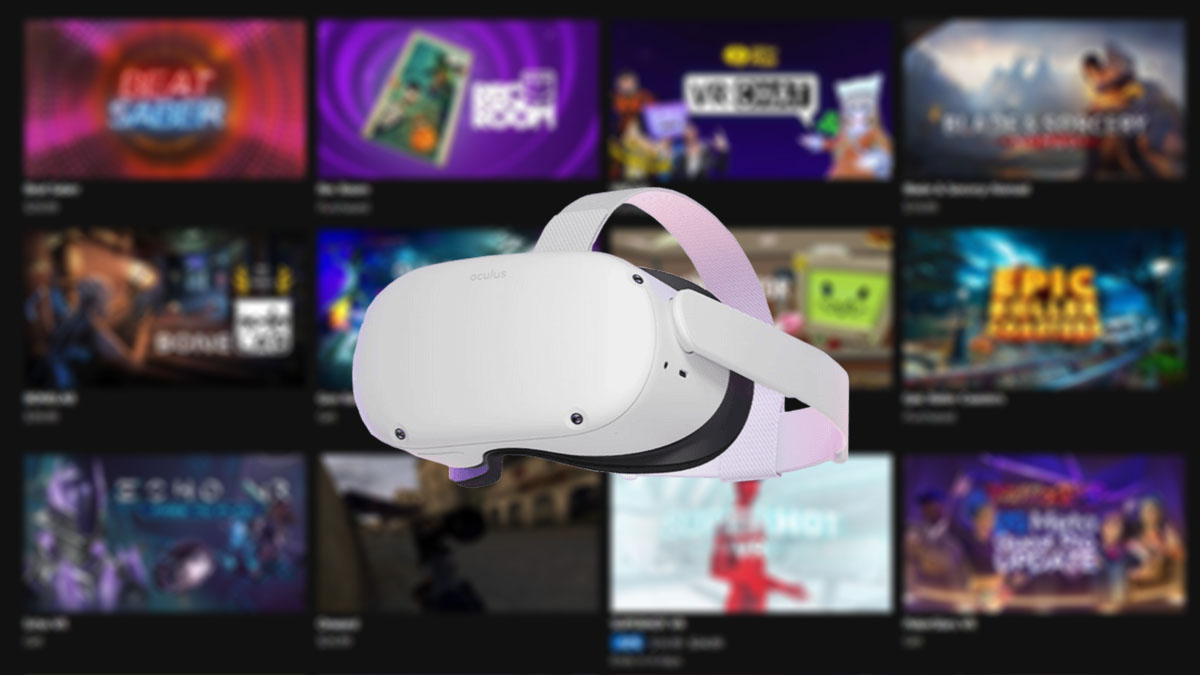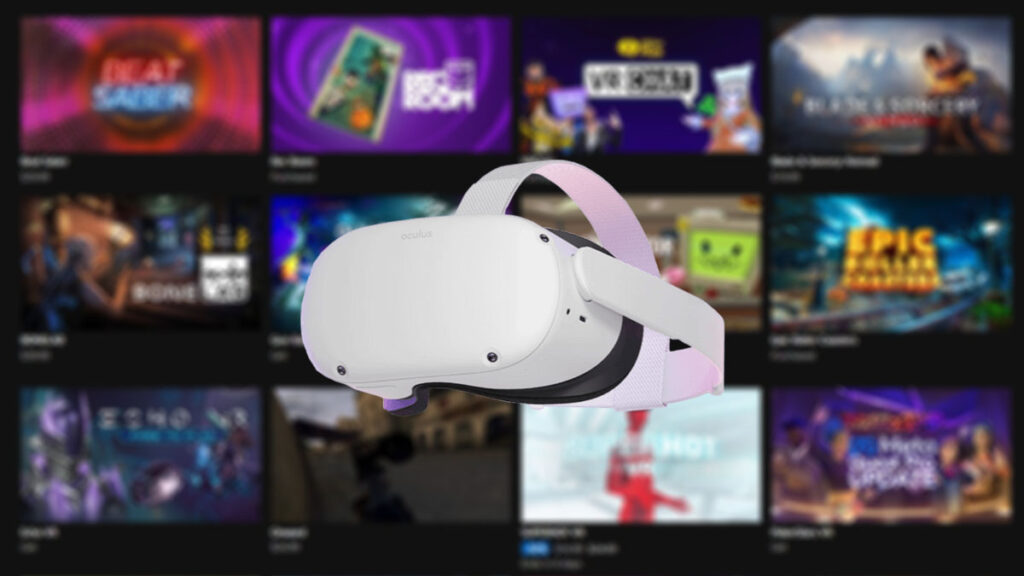 Meta's vast library of VR games and apps is one of the biggest reasons the Meta Quest 2 is the most popular VR headset. According to VRDB, there are more than 430 games on the official Meta Quest store and over 1,530 games on the App Lab. When added up, that's a total of 1,960 VR games and apps.
The app lab is an alternative method for Quest developers to distribute their games without going through Meta's curation process. This process makes it easier for developers to get their games on Quest 2. There's also sideloading that has now become a popular method to get free VR games on Meta Quest 2.
Sideloading = Free VR games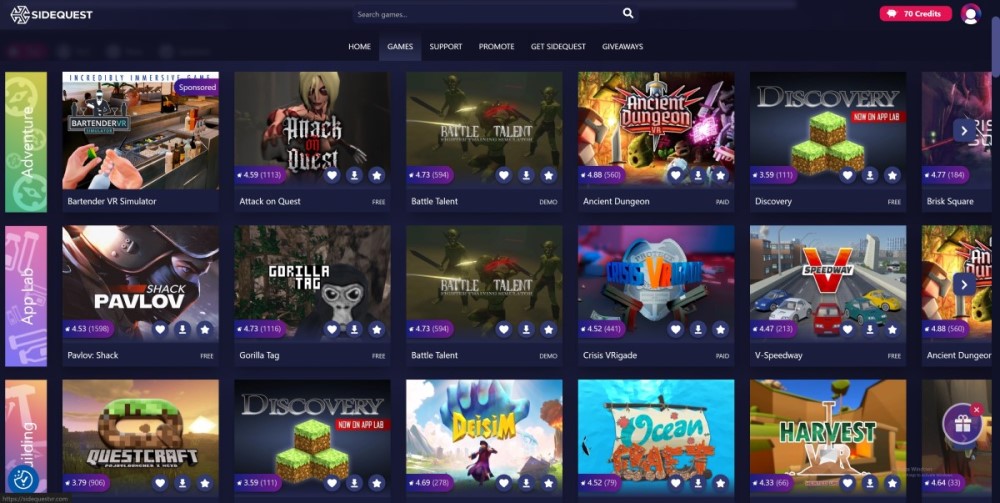 As the Meta Quest 2 runs on Android, it is also possible for the VR headset to sideload apps through APKs. Users just need a Quest developer account and a sideloading application like SideQuest. SideQuest has become the de facto alternative store for Quest 2. However, not many people know about it, even though it houses some of the best free VR games.
Standalone VR Games & Free trials
The Meta Quest 2 has several premium VR games like Beat Saber, Superhot VR, Resident Evil 4 VR, Bonelab, The Walking Dead: Saint & Sinners, and more. Some of these premium VR games are more or less exclusive to the standalone headset. Most of these games run flawlessly on Meta Quest 2, with Bonelab being the only exception.
One of the most recent additions to the Meta Quest store is the inclusion of free trails. Quest 2 owners can now try out several standalone VR games for free. The free demo will last 15, 30, or 60 minutes depending on the app/game. This feature is great for users prone to motion sickness, as they can test the VR app before buying it.
Meta Quest 2: PC VR Review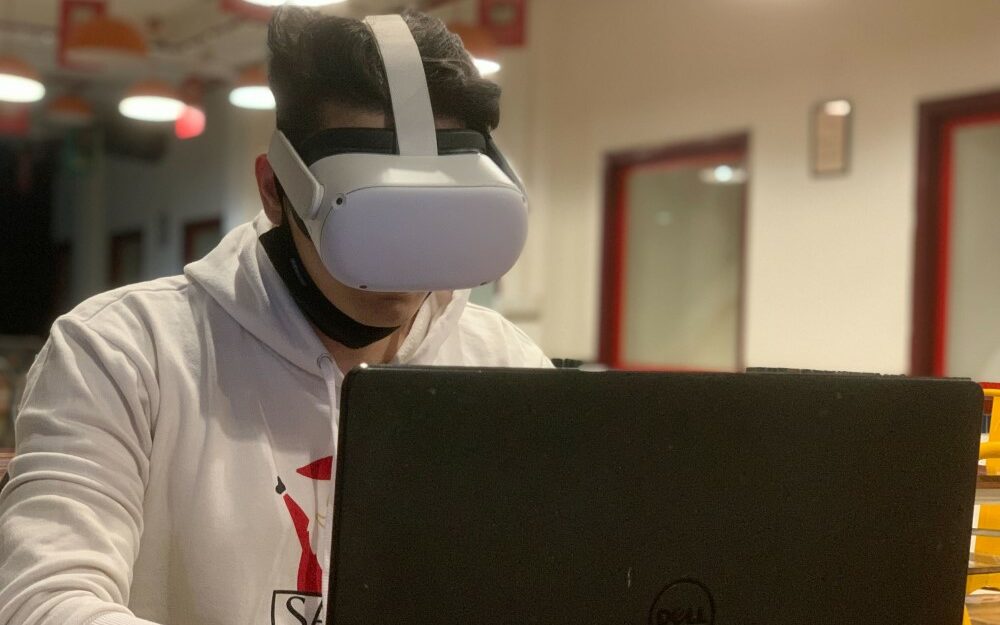 The Meta Quest 2 is a powerful piece of hardware, but it still can't match the PC VR experience. Fortunately, the VR headset can connect to a PC using a USB-C cable or Air Link (WiFi) for a wireless experience. However, to play a PC VR game wirelessly, one would need a good 5G internet connection.
Many Quest 2 owners also prefer to use the Virtual Desktop app as it has a better UI and video quality when connected to a PC. However, it mainly comes down to personnel preference, as the official Oculus Link application is serviceable and free, while the app costs about $20.
Meta Quest 2 Software Review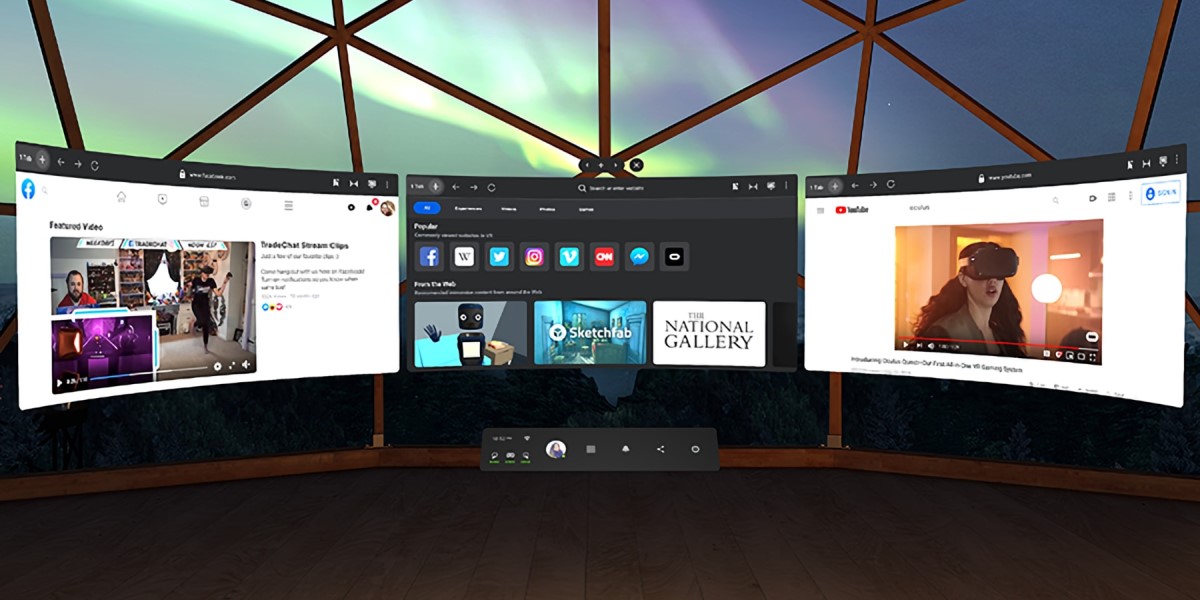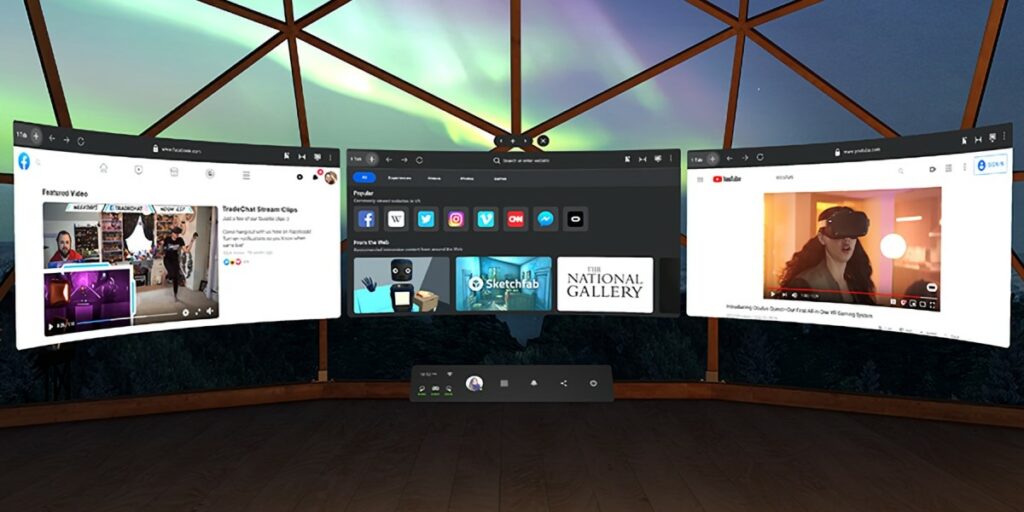 Meta has done a great job providing constant software updates to the headset. The company has used these updates to implement many new experimental features. Additions like the 120Hz display, Air Link, fitness tracking, mixed reality casting, Bluetooth mouse, and keyboard support were all added through these experimental features.
The Quest 2 also allows users to cast what they see onto PCs, TVs, or smartphones. The company has also significantly improved hand tracking to make it less awkward to use. However, the most impressive tracking implementation has to be the guardian system.
With the guardian system, users can select their play area, mark walls, desks, and chairs. An additional feature even warns the users if a person has intruded the play area by showing them their silhouette. However, users can also use the Stationary mode if they don't want to set up a room-scale environment and use the headset while sitting.
Meta Quest 2 Review: The Best Standalone VR Headset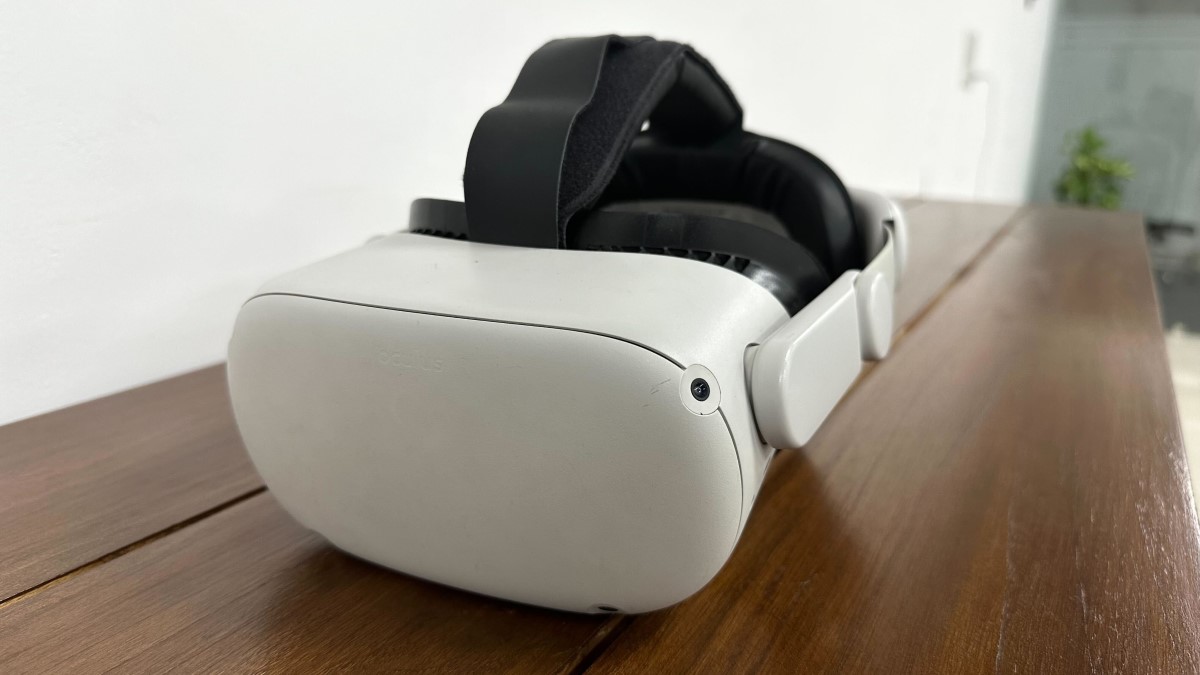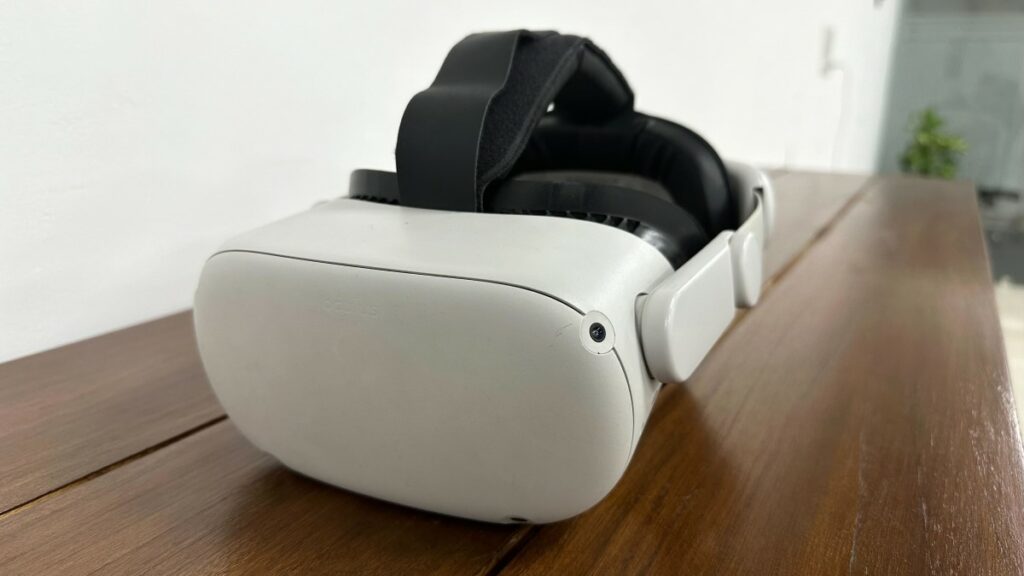 The Meta Quest 2 is more than two years old, but it remains the best standalone VR headset. It is an all-in-one VR headset that can cater to most customers due to its simplicity and affordable price. The headset stands out from its competition due to its standalone functionality, a vast library of VR games, constant updates, and affordable price.
The Pico 4 gives the Quest 2 a run for its money in terms of design, display quality, and price. However, Quest 2 is still a good option for exclusive standalone VR games. Add in the fact that there are more than 1,500 VR games in their App Lab; no other headset can match the Quest 2. That's why we consider the Meta Quest 2 the best VR headset we have reviewed, even three years after its launch.